Foundation 1
fs1@siredmundhillary.notts.sch.uk
The 'Tell Mrs Newton a Story' Challenge!
Click on my video to find out more:
Teddy Bears' Picnic
We received an invitation this week, from the Three Bears! They invited us to a picnic and told us to bring a bear. We made a list of all the things we needed, including bread, jam, spread, biscuits and crisps! Everyone worked together to organise the event; we worked together well! It was great fun.
World Book Day
We have had a lovely World Book Day! Everyone dressed up in character costumes, even the adults, with Mrs Keating being Daddy Bear, Mrs Newton being Mummy Bear and Mrs Elmore being Baby Bear! Booster Cushion Theatre came and we all enjoyed the fantastically funny show: Goldilocks and the Three Bears Plus!
We really enjoyed making pancakes at school. We had to put our instructions into the correct order, then follow them carefully. We worked together to make the batter. Instead of having one each, we shared pancakes in groups of four children and had to work out how to cut them fairly.
Marvellous Maths Stay and Play!
We had a great time during our maths activity day! We were so pleased with the number of adults who stayed to join in on the fun. We hope that you all felt it useful and learned lots about our high expectations around maths and about how you can support your child at home.
Chuc Ming Nam Moi!
We have loved learning about Vietnamese New Year and have been busy enjoying so many different experiences. We made our own blossom tree, tried Sticky Rice Cake, made stir fry and used chop sticks. We've ribbon danced, had a dragon parade and learned all about the Zodiac animal race. We've built our own 5 Fruits Plate and enjoyed role play in our Vietnamese Kitchen. Not to mention all the cutting activities children have accessed and the information we have gained from our Vietnamese children and their families. Phew, what a fabulous, busy week!
Our Nativity Trip to Perthorpe
We had a fantastic day on our trip to Perlethorpe Education Centre. We travelled all the way to Bethlehem with Mary and Joseph as we enacted The Nativity Story. We also had a great time with lots and lots of Christmas crafts including snowmen cards, baubles, wreathes and pine cone keepsakes! Oh, and we all enjoyed our packed lunches too!
Our Foundation Nativity play this year was Whoops-a-Daisy Angel and we played the part of the starry night sky. Thank you to all the parents and carers who came to our costume decorating session: all the children looked fantastic in their "home made" star outfit! The children put on an amazing performance and showed courage in front of such a large audience.
Thank you to Dr Sibson for coming to talk to us about being a doctor. We learned all about stethoscopes, otoscopes, medicines and thermometers!
Children In Need 2019
To help raise money for Children In Need, the children made decorated spotty biscuits and then sold them at the end of the day. By working together we raised around £25. We learned that it is good to do something that helps other people. We are kind and helpful.
The Worksop Fire Brigade have been to visit us today and, despite the extremely heavy rain, we had a great time. The children listened carefully while Richard and Adam, the fire fighters, talked to us about how to stay safe. We looked at the fire engine and noticed the ladders and the blue lights. We heard the loud siren too!
We had an amazing firework party! The children helped me to write a list of all the things we needed to buy and then we worked together to prepare hot dogs and a fruit punch! Foundation 2 made us some delicious firework biscuits too. After our party food we enjoyed the fireworks display! Everyone was so brave, even when the noisy, crackly fireworks surprised us!
Our Spiders and Pumpkins Stay and Play Session
We had a great time at our first Stay and Play session. The activities were all designed around supporting physical development, both fine and gross motor. Thank you to the many parents who supported this event. We hope you had a super time exploring with the children and learning all about how you can help with physical development at home.
We are learning all about Autumn and have enjoyed collecting different coloured Autumn leaves (thank you to all the families who have supported their children with this!). We have explored lots of different vegetables and watched how farmers harvest their crops. The children have enjoyed developing their chopping skills and worked together to make a delicious, healthy vegetable soup.
We have had a great time learning the Little Red Hen story and are very good at remembering the words from the text. Last week we had a visitor to the class: The Little Red Hen! She wrote us a letter to let us know she was visiting and even sent us some bread to try! We really enjoyed making friends with her and spent a long time noticing her features. She must have been happy with us as she even laid an egg!
Keeping Fit and Having Fun!
Here are three dances from the Go Noodle Website - have fun dancing together! Try to copy the moves (or just go free style!):
Try a work out with Joe Wicks!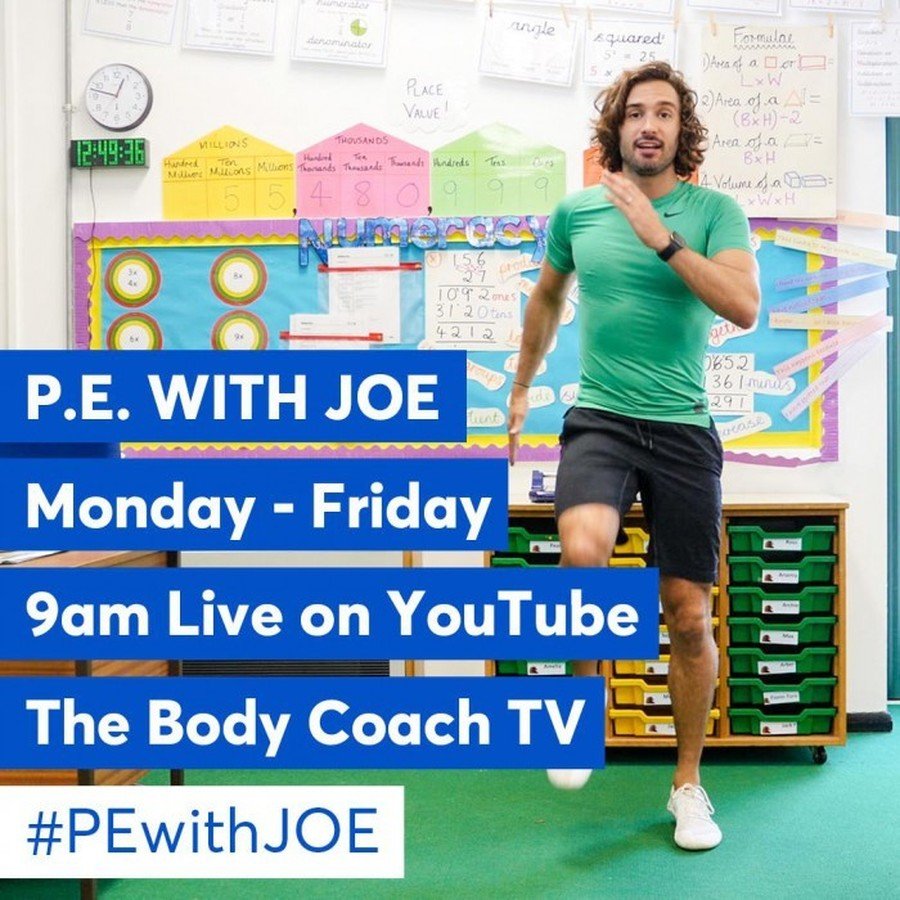 Why not try some Cosmic Yoga!
The Daily Mile At Home
Instructions from the UK government are very clear – they are allowing us to take exercise outdoors, once a day, as long as we can keep a safe distance from others.
Click on the Tiny Happy People link below to take you to their tips and advice, including how to keep active, how to enjoy the outdoors and ways to stay happy and calm at home:
Sleep Issues
Are you having trouble getting your child into a good bedtime routine? Does your child wake through the night and need help to drift back off? Click on the link below for lots of useful information.
Language for Life
This site has lots of tips and advice on how to develop your child's language and communication skills.
The Hanen Centre specialise in developing children's language and communication. Click on the link below to a useful article about how to help your child with their speaking skills: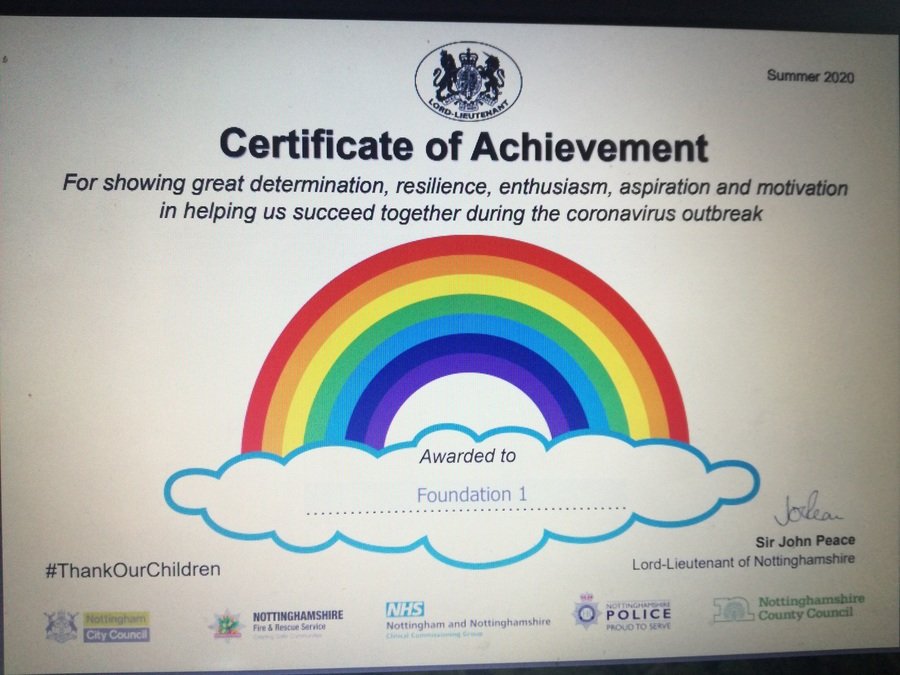 The Lord Lieutenant of Nottinghamshire (The Queen's Representative in the County) , wishes to say 'Thank You ' to you for contributing to helping the country during this time, by learning from home and washing your hands and doing things to prevent the spread of the virus. He has awarded us this certificate and you can see him saying Thank You here: https://youtu.be/xCbcOhHJAU4