Transition Information
Moving to Foundation 2
Click on the link to practise your phonic sounds.
Have a look at these interactive maths activities.
100 things to do indoors...
Below is our topic web where you can see what we are learning for this half term.
We really enjoyed our visit to the Harley Art Gallery. We thought about the features of each piece of art and what we liked about them. We used vocabulary like 'shape, colour, texture, pattern and portrait'.
Today, Anya from Zoolab visited our school and introduced us to some interesting mini beasts and a special reptile too!
We became animals on the farm today! We worked in our animal groups to create our masks.
Oliver's Vegetables
The children have worked in teams this work to make vegetable soup. In Literacy we have written a set of simple instructions for how to make it.
Today, we have enjoyed a wonderful Diwali celebration! We have danced, tried traditional Indian food and had some time to think about what we are thankful for whilst we lit our Diva lamps.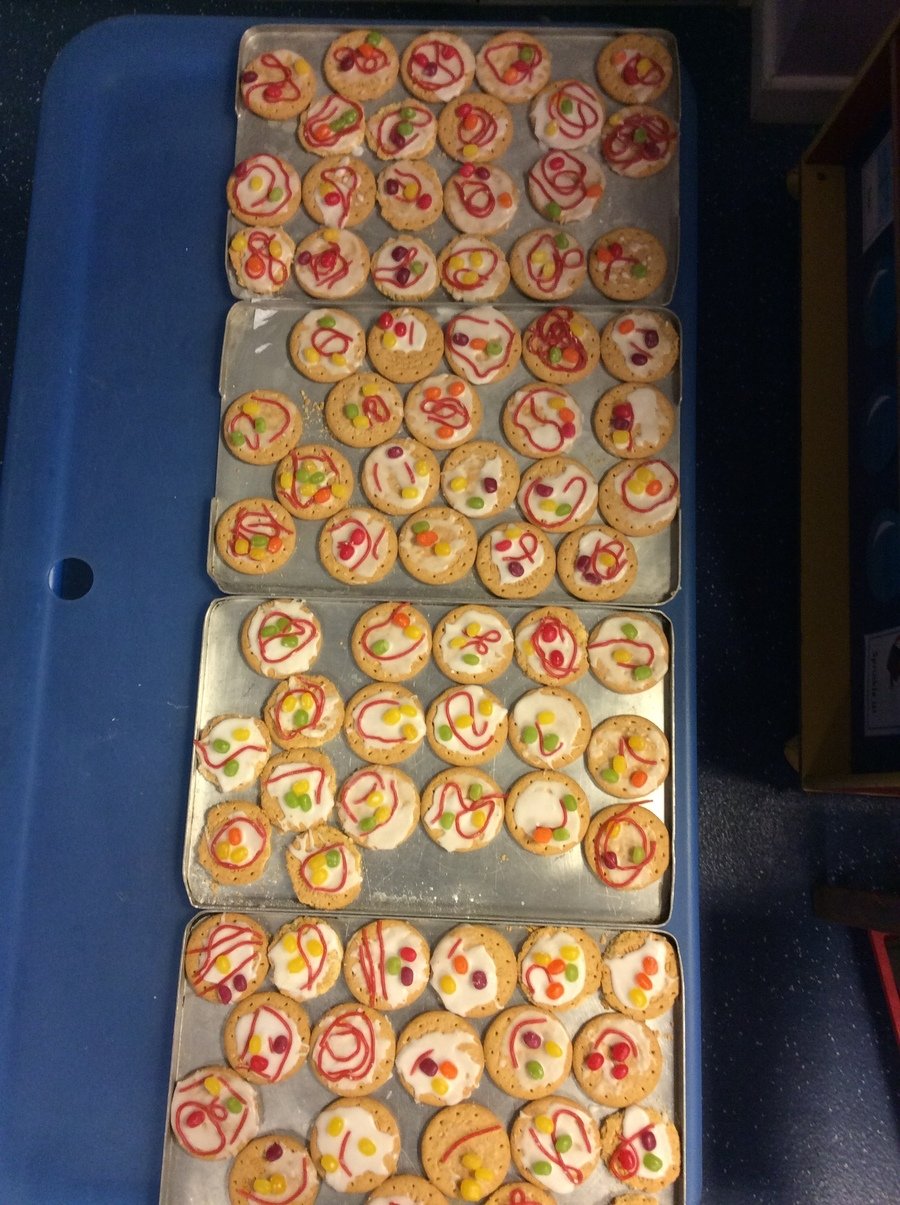 Mr Guest sent us a letter telling us we needed to make firework biscuits for our firework party!
Do you like our traditional dancing we have learnt for our Diwali celebration?
We each made a leaf using a marble rolling technique for Jack's Beanstalk!
The children have worked together using different collage and painting techniques to make Goldilocks and The Three Bears!
Here are some ideas that you
could try at home...
Please remember to check our messages via Marvellous Me.
If you would like to contact a member of F2 staff or share photographs of learning from home please contact us via our email address:
HOME LEARNING
Wednesday 14th July- Friday 16th July
Just like Elmer 'We are unique'......
Home Learning- Mathematics
Home Learning- Handwriting
We have created rainbows on our school fence to thank all of the NHS staff and keyworkers during these difficult times.
Please click on this BBC Bitesize picture for lots of Early Years resources and songs!
50 ideas for learning through play...
Summer 2 -
Why do Zebras have stripes?
This theme develops the children's knowledge and understanding of contrasting locations as they explore their own locality in comparison with that of Africa. This will include the sustainability of the different environments and the impact that this has on their daily lives.
We will be completing studies of the animals, artwork and cultural differences.
Children will be focusing on different aspects to identify similarities and differences between the locations presenting their findings in different ways including African tales, traditions, art and musical creations.
We have been working hard to create African Sunset scenes. We used a colour wash for the sky and black charcoal to add the animal and tree detail.
Summer 1 -
Why do ladybirds have spots?
This theme develops children's knowledge and understanding of mini beasts within our local environment.
Children will begin to explore the features of mini beasts and to compare similarities and differences and how their habitats support this.
We will encourage children to take an active role in caring for their locality including gardening, maintenance and placement of play equipment.
Spring 2
Do cows drink milk?
Red Nose Day 2021 - The children enjoyed being an audience for our Comic Relief joke competition today. They had some very funny faces!
Spring 1
What happens when I fall asleep?
Our half term in photographs!
We would like to thank everybody for their hard work and fantastic attitude to learning.
You have all been amazing!
Something strange happened at school this morning. We found Mrs Grgeory asleep in our classroom! She was very confused about what she should do during the day and at night time. She let us look inside her magical bedtime box and we found the story 'Peace at Last'.
Pretending to be Baby Bear from 'Whatever Next'!
Autumn 2
Let's celebrate!
This theme supports the development of children's cultural awareness as we explore celebrations across a range of cultures & different religious beliefs. Children will learn about the celebratory activities that take place locally and those within the wider world showing respect for others.
Today we have been decorating Christmas trees for our classroom and the front entrance of school!
Autumn 1
Will you read me a story?
To complete our Traditional Tales Topic we have had an afternoon celebrating. The King and Queen sent us royal cupcakes and we have recorded some songs for you to watch!
In Foundation 2 our topic is
'Will you read me a story?'
As we begin the year, we focus on developing children's confidence, self- esteem and self- awareness as they transition to full time education.
This term we will be sharing familiar stories and re-enacting them through small world, role- play, writing and opportunities to represent these in their artwork.
Children will explore characters focusing on actions, events and traits sharing their understanding using different forms and media.
Click here to find E books. Just find your book band and enjoy!
Try Yoga and fitness sessions to keep you active!
A lovely Youtube channel to help children learn to draw. Lots of exciting themes... get squiggling!
Here are some of the texts we will be using during this topic.
After reading Handa's Surprise, we really enjoyed working together to chop up the different fruit. We used our smelling and tasting senses to see what we thought about the fruit. Mango was our favourite!
We have been using our outdoor Transient Art resources to create mini beasts!
Once we had all made our animal masks, we enjoyed singing 'Old McDonald had a farm'.
Wow Words
This week our story is 'The Little Red Hen'. Here is a list of key vocabulary from the story.
Hen
Plant
Grain
Wheat
Flour
Mill
Miller
Here are some of the texts we will be using during this topic.
After sending each other invitations and making birthday cards for Edmund Bear this week, we have really enjoyed celebrating today!
Whilst learning about Diwali, we have made clay Diva lamps and have chosen beautiful coloured paint to decorate them.
We loved our firework party today!!
Will you read me a story?
We had a huge surprise this morning... candy canes were scattered all over our name cards and a trail of bread crumbs led us all to Mrs Gregory's carpet. There we shared the story of Hansel and Gretel!
Somebody visited our classroom again this morning! We were very surprised, but rather excited when we saw that Jack had left us all a golden, chocolate coin!
Last week we received a very special letter from the King and Queen of Happily Ever After Land. We wrote back to them to inform them of what Goldilocks had done in our classroom!
Look what Goldilocks did to our classroom!!
Our favourite Traditional Tales...