Click on the link below to access the PowerPoint from our recent Phonics Teams meeting:
Click on the link to practise your phonic sounds.
Fun at the Farm!
To finish off our focus on farming, we took a walk to a local small holding. All the children loved getting close to the animals and remembered lots of facts and vocabulary that we learned during the topic. We got chance to pet and feed the animals and Farmer Dean even let us feed a hand-reared lamb with a bottle of milk! What a lovely morning we had in Worksop!
Poetry Slam!
We learned poems related to farms for the poetry slam...
Mrs Gregory's Mistake!
We had a big shock in our classroom this week - we found Mrs Gregory asleep at school when we arrived! We realised she was missing, tried to find her and then found her snoring in bed!! We were quite concerned about her and debated over whether to let her sleep or wake her up. After thinking carefully about when the best time to sleep actually is, we decided to gently wake her up! This lead us to think lots about activities that we do and when we ought to do them.
Looking Good in our Nativity Costumes...
The Christmas Tree Festival
This year we took part in the Christmas Tree Festival at the Priory Church! We made our own decorations in class and were pleased to see our Christmas tree amongst all the other contributions from the community. It was lovely to walk around the beautiful church and felt like a great way to start celebrating Christmas.
Indian Drumming Workshop
The children had a wonderful time during our Indian Drumming Workshops. We were amazed by Mr Singh and all of his Indian drums! The children were brilliant at trying to keep to the beat and really enjoys the rhythms and songs. The drumming was so loud and sounded fantastic!
Bonfire Night!
Remember, remember the 5th of November!
We have learned about Bonfire Night and used non-fiction books to find out about traditional ways to celebrate. We know about the history of Bonfire Night and what Guy Fawkes tried to do.
We celebrated at school by having a Fireworks Party! We prepared hot dogs, made firework biscuits and chocolate apples. We enjoyed the fireworks together: everyone was very brave!
We have learned a poem called Fireworks Go! We hope you enjoy it:
Autumn 1
Will you read me a story?
An Unexpected Visitor!
We have been so shocked today! We went for a walk and when we returned, someone had been in our classroom, causing havoc! We looked for clues and shared our ideas, coming to the conclusion that Goldilocks had been! She left a terrible mess for us!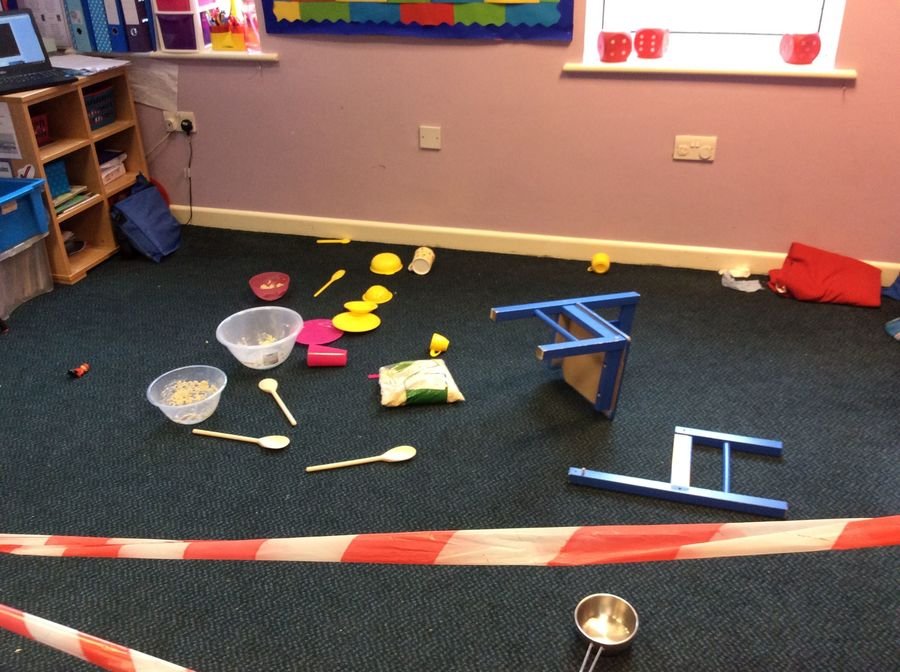 Collaborative Collage Characters!
The children have worked together to create large scale collages of Daddy, Mummy and Baby Bear. First the children drew around their friends, comparing heights to find someone tall, short and medium sized. After cutting the characters out (with a little help) they sponge printed the bears' fur before sticking on items of clothing! The children were all happy with the results :)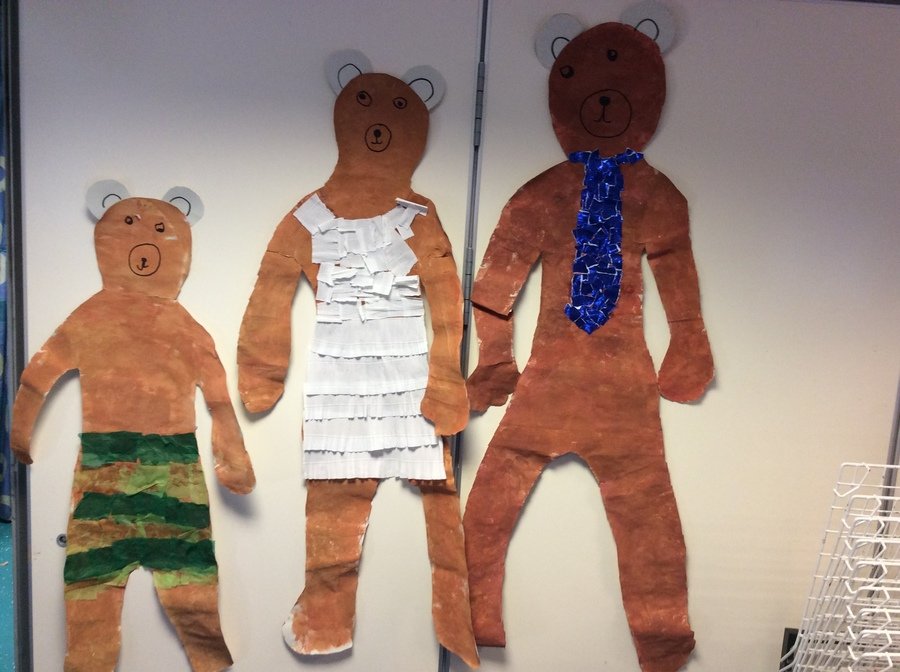 Making Porridge
Mummy Bear sent us an email asking if we liked to eat porridge. She attached some instructions and so we worked in groups to make it. We had to go for a walk while it cooled! When it was just right the children tried it. Most of us thought it was yummy!
An Autumn walk and beanstalk in the classroom!
We went for a walk today, looking for signs of autumn. We gathered lots of leaves and even found big apples growing in the wildlife area. When we returned we were amazed to see a beanstalk had grown in the classroom! We had to chop it down before the giant came down in search for his gold coins! Once the coast was clear, we ate the chocolate coins!!
Please remember to check our messages via Marvellous Me. Our class email address is:
Foundation 2 Curriculum Planners
A lovely Youtube channel to help children learn to draw. Lots of exciting themes... get squiggling!