The link below offers some great resources for home learning in Maths.
Each lesson is supported by on online tutorial. Watch the video, complete the task and then check your answers with the answer section.
Other useful Maths sites include:
Keeping Active
During this difficult time your exercise will look a little different. Have you been taking part in the Joe Wicks PE lessons? Have you been going on a daily walk or playing in the garden?
You might like to try the Go Noodle website. It's full of dances and workouts that you can try at home.
https://www.gonoodle.com/good-energy-at-home-kids-games-and-videos/
Let us know how you get on. We'd love some photos on the blog.
Meet our Team:
Mrs Pollard - Teacher
Miss Abbott - Teacher
Mrs Goy - HLTA
Mrs Wright - TA
Mrs Clarke -TA
Miss Farish - TA
Mrs Tetley - Brass/Music teacher
Look out for further information regarding Parental Engagement workshops and class events.
Our text this half term is Demon Dentist.
We will also be using our reading skills to find out about human and animal digestion.
MATHS
Our Maths this half term will focus on decimals and making links with money. We will also be looking at 12 and 24 hour time.
Spelling lists for this half term:
Planners and Year 4 Information
Filling our Learning Rucksack
This half term we are working on filling our learning rucksacks with information all about the oceans. We have been using our new non-fiction books to find out about the ocean layers and the creatures which live there. The information station has been a popular choice for independent learning time.
Log into Purple Mash
20/7/20
Task 1: Read Chapters 6 and 7 of Tristram's Treasure Trove
Task 2: Remember to continue making your reading recommendations on the blog so that we can make you a blog star for the week.
If you are looking for a new text to read maybe you could try The Indian in the Cupboard or How to Train your Dragon. Both of these are texts that we would have been studying in school this term.
The following site has lots of Oxford Reading Tree books available to access for free. It covers all over the different coloured book bands.
Home Learning Projects
Have a look through our gallery at some of the amazing home learning projects that have been completed during our school closure. This is fantastic work and we are all so proud of you. One learner chose to explore her love of all things relating to Ancient Egypt and made a sarcophagus and mummified an orange! We have a brilliant shadow theatre and a stick house perfect for Winnie the Pooh and friends.
What a brilliantly informative nature report. Fantastic research and great delivery.
Budding gardeners
Many of us have been trying our hand at gardening during our school closure. Here we have a couple of examples of what we have grown so far. Keep us posted with your growing success.
Creative Challenge
15.6.20
This week we would like you to have a go at making a marble run using the materials that you have at home. You could use LEGO or other construction equipment or you could get creative with some recyclable materials. Use the link on the document below to give you some ideas if you are stuck. Please send your videos and photos to the Year 4 email so that we can share them on the website. We can't wait to see what you create.
Summer reading challenge
The UK's biggest annual reading for pleasure programme for primary aged children returns with an all-new digital challenge in 2020.
https://www.inspireculture.org.uk/whats-on/news/2020/06/22/summer-reading-challenge-2020-resources-schools/
Sign up here:
World Oceans Day
8.1.20
Check out the World Ocean Day schools website for a whole host of learning activities for you to take part in.
Starting at 9am there will be a range of live ocean films, storytelling, science and music activities happening throughout the day.
Keep us posted on the blog with what you have learnt and enjoyed.
The Halle Orchestra play Ode to Joy.
Recently Mr Guest shared a section of this piece of music to us in assembly. As we aren't able to visit the Halle this year I thought you might enjoy watching them from home.
https://www.youtube.com/watch?v=MNg797LTyCY
Creative Challenge Number 2
For the next couple of weeks we'd like you to have a go at the 'Project in a Box' activity set out below. Through the sessions you will learn how to create a shadow box theatre, design and make puppets and scenes and write a story to act out in your theatre.
You do not have to use the story that is provided in the pack. That is just to give you some ideas. We know that you are really creative and can come up with your own story, props, puppets etc.
When you have made your theatre could you ask a grown up to film your show and send us an email with your video attached and we will upload them to the website for everyone to enjoy.
Young Voices Event for all
On 2nd June 2020 - you are invited along with families and children from across the world to pay tribute to all teachers by joining together to sing "The Power in Me" from the safety of your own homes.
You can register here:
youngvoices.co.uk/powerinme

In the weeks leading up to the main event on 2nd June, you are encouraged to take part in the #PowerInMe singing challenge and to film yourselves singing the song's lyrics "I've got the Power In Me" and post it online with the hashtag to see who responds completing the song's chorus "You've got the Power in You!".

There are also a series of online workshops to prepare you for the big day:

Tuesday 12th May 4pm UK/11am EST - 'Conductor Swap' - David Lawrence runs an online rehearsal/workshop for children in the US
Thursday 14th May 4pm UK/11am EST - Rebecca Lawrence interviewed by Gigi Morley on being a composer and composing the Power in Me
Tuesday 19th May 4pm UK/11am EST - 'Conductor Swap' - Francisco Nunez runs an online rehearsal/workshop for children in the UK
Thursday 21st May 4pm UK/11am EST - Andy Instone will run a live movement session to teach the moves for Power in Me for everyone who has signed up.
Look at all the fun stuff Year 4 have been up to.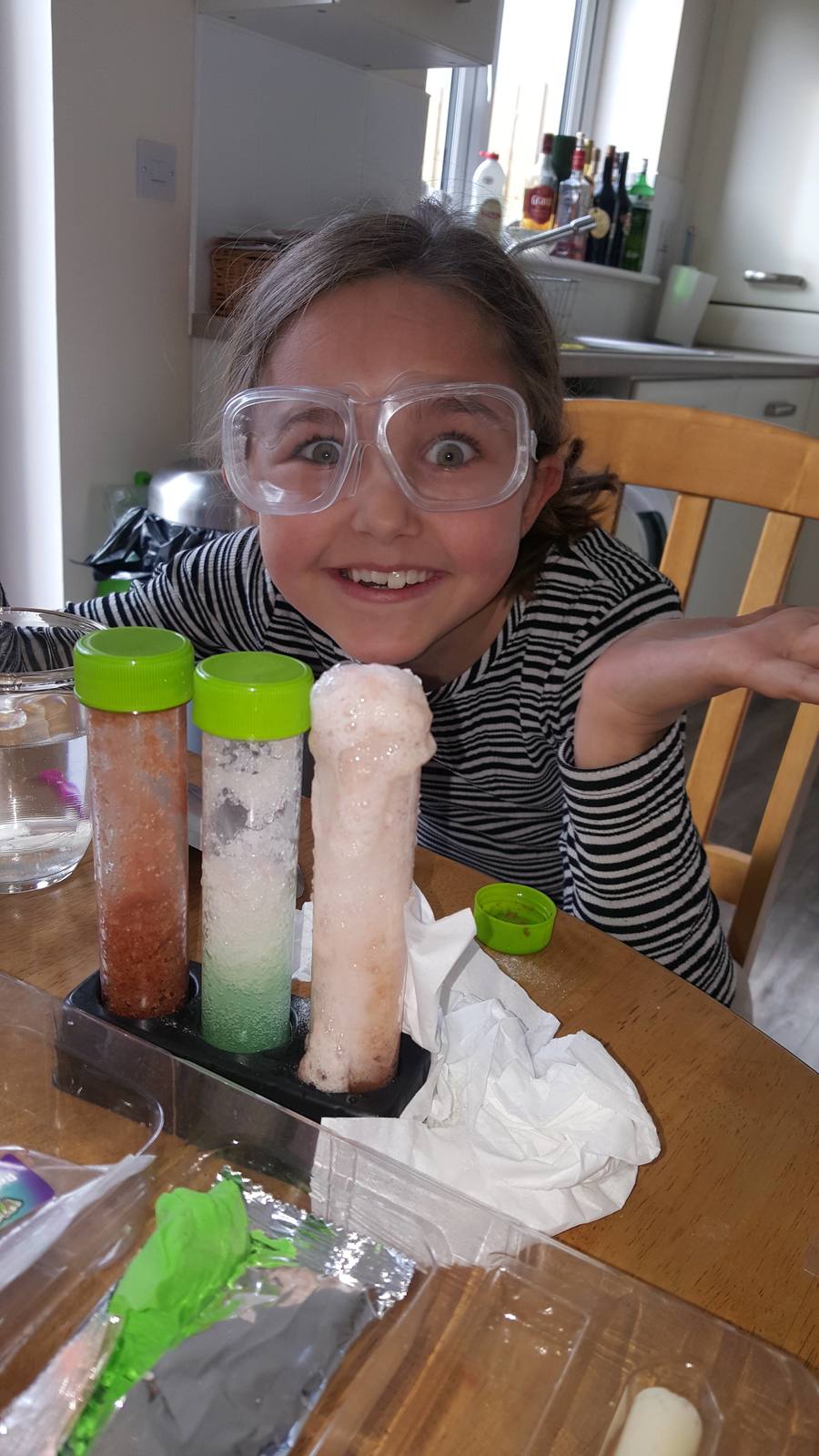 Our school rainbow. Spreading some cheer around our community. Stay safe.
Current Topic:
Burps, Bottoms and Bile
In Spring 2 PE is on Monday. Please ensure PE kits are in school everyday please.
Reading Folders
Please ensure logs are signed at least 5 times a week and that reading folders are in school every day.
Poetry Slam
On Friday 6th March the children took part in the very first Sir Edmund Hillary Poetry Slam. Each class was asked to learn a poem of their choice and perform it for the rest of the school. An individual from each class was selected to perform their own composition. What a superb event. The children made us very proud. They performed with great confidence.
4P were awarded the winners trophy for Lower Key Stage 2 whilst Poppy Jones and Lottie Underwood were awarded certificates for their individual poems.
Maths Investigation Week
During Maths Investigation week we have been looking at growing shapes. We had to look at how patterns changed and work out the formula for the next patterns in the sequence.
Our DT work in the Autumn Term involved making catapults. We had to research, design, make, test and evaluate them.
Log into Purple Mash and check your '2Dos'
20/7/20
Task 1 Book Review
Now that you have read the whole text, complete a book review. What did you enjoy about the text?
Websites to support writing.
Project ideas linked to this topic:
What will you choose to do?

• Try making Anglo-Saxon bread or Viking flatbread (search online for recipes).
• Look at King Alfred's pledge: 'I desired to live worthily as long as I lived, and to leave after my life, to the men who should come after me, the memory of me in good works'. Write a pledge – how would you like to be remembered in the future?
• Look at images of Anglo-Saxon coins. Can you design a coin? You could draw a picture or use modelling clay or other materials to make your coin look like metal
• Do some research about Viking names and their meanings, and make up some suitable Viking names for your friends and family. Remember to describe something about each person's appearance or characteristics.
• Research some simple Viking embroidery patterns. Using a needle and coloured threads, embroider a small handkerchief. Maybe you could give it to someone as a present?
• Look at animals in Viking art (search online for the Urnes or Jellinge styles). Can you design and draw an imaginary beast to make a fantastic pattern?
• Find out more about the Futhark alphabet (also known as the runic alphabet), used by the Vikings. Write a short message using the runic characters. Vikings wrote on wood, bone and stone. What will you use?
• Listen online to someone speaking Old English or Old Norse. Can you recognise any of the words? Can you learn how to express a greeting or phrase in one of these ancient languages?
• Imagine you are a Viking skald or poet. Create a poem to sing the praises of a friend or family member.
• Find out about real treasure (often known as hoards) discovered from this period. Sutton Hoo and the Staffordshire Hoard are good examples. You might find information on hoards close to your school. However, exact locations are often kept secret. Can you think why?
We thoroughly enjoyed our visit to The Deep as part of our topic about the oceans. We took part in a workshop to show how different groups of animals are classified and were able to find out about creatures that live in the different ocean zones. We were very lucky to be able to see the divers in the tank.
Submarines
We learnt all about the first submersible created by Cornelius Drebble. We were very interested to find out that he used pig skin bladders to sink and float his vessel. Using our knowledge of buoyancy and upthrust along with Drebble's ideas we created out own working submarines.
As part of our topic on potions we visited Grimm and Co in Rotherham. We took part in a story writing workshop and we all published our own story.


During this topic we also designed and made potions. They weren't quite as gruesome as Shakepeare's potions but they definitely bubbled in our cauldrons!