Hello everyone, It's Mrs Newton here! I wanted to send you a message to say "hi!" and to let you know I'm thinking about you all!
I've attached a letter below for the parents of all the children who will be coming to my Foundation 1 class in September. I hope it eases any worries you may have around transition during this strange time!
I hope to see you soon!
Remember to enjoy the videos of me reading stories on the F1 page! I may add some more videos just for you!
Mrs Newton :)
Click here to download our 'Preparing Your Child for F1' support leaflet:
Stay Wild at Home
Spring is in full swing and wildlife is everywhere - even in our gardens, yards and streets. Nottinghamshire Wildlife Trust have a great website with ideas for 'staying wild' at home. There are things do to, see and make including children's wildlife yoga, butterfly spotting, making a hedgehog house and learning about the trees in your garden or street.
https://www.nottinghamshirewildlife.org/stay-wild-home#thingstodo
Lockdown fun
Being in lockdown hasn't stopped our children playing, learning and having fun.
During April nursery children have been busy gardening, hunting Easter eggs, bug hunting, baking, colouring, bathing dolls, making dens, blowing bubbles and much more.
Take a look at our slideshow below to see what the children have been up to.
Improve your child's communication and language skills
The BBC have a great website called Tiny Happy People which has some great ideas, tips and activities to keep you child busy whilst improving communication and language skills. Have a look by clicking the link below.
https://www.bbc.co.uk/tiny-happy-people
FACEBOOK: @bbctinyhappypeople
INSTAGRAM: https://instagram.com/bbctinyhappypeople?igshid=1rgyqg97nnpls
Links to online learning resources
For our older children there are a couple of links below which will take you to The Oxford Owl (online e-books for age 3 onwards).
There is also a link to some fab little videos for Jolly Phonics on you tube.
Our latest indoor activity booklet is available to download below. Inside there are lots of new ideas to keep your child's mind active and bodies busy. Please email us photos of your child taking part to: kmiller@siredmundhillary.notts.sch.uk
A school closure doesn't stop the fun and learning for our nursery children
Nursery children have been keeping busy during the school closure by working through our '25 things to do around your home' booklet. It is wonderful to see photos of the children having fun, being creative and learning new skills. A huge thank you to our wonderful families for keeping in touch and supporting learning at home.
During the school closure please see the following agency posters. These detail services which are available for families/young adults seeking advice on a range of health related issues.
SCHOOL CLOSURE
Even though school is closed for the foreseeable future we have provided a booklet to keep little minds active and continue children's learning however young.
Please click on the link below to download the booklet. Should you need any other help or advice Mrs Miller can be contacted on the email address in the booklet.
Independence

One of the key skills for life we want to teach our children is independence, both in relation to their actions and their thinking. Children have to be confident in their own abilities otherwise they will remain over-reliant on the support of other adults or their more confident peers. Their confidence grows through opportunities to try new things in a safe and supportive environment with lots of positive reinforcement.
In nursery we have been teaching our children from 2-years-old the 'flip' technique for putting on their own coats and the results have been fantastic. The pride and sense of achievement we have seen in our children is a joy to see and it is truly empowering for them.
Take a look at our fabulous children demonstrating the 'flip' in our video below.
Winter
We've had a busy start to the new year focussing on our winter topic. The children have learned how to tear and scrunch tissue paper and use glue sticks to create snowflakes. They have also used cotton buds and pinchy fingers to create snow scene pictures - both these activities are great for helping fine motor skills, finger strength and dexterity. These skills help young children to gain independence by doing up and undoing things like zips, buttons, opening packets and many more things we often take for granted.
The children have also been exploring ice and have learned what happens to water when it gets very cold. We consolidated this learning by making chocolate 'snowballs'. We melted chocolate, mixed it with cereal and put it in the fridge until it had turned solid again...... and of course everyone enjoyed eating the end result.
Imaginative play
Unlike many toys a box is not just a box. It is a den, castle, car, slide, bed, garage or whatever a child wants it to be. The possibilities are endless. The simplest of everyday items have the ability to harness a child's imagination and allow them to explore and be creative. It also helps children to learn how to play cooperatively with others as well as enhancing their communication, language and physical development. So next time you have a delivery let your child loose with the box and see where their imagination takes them.
Christingle service and Christmas party
On Christmas party day most of our morning children attended in the afternoon to join in with the celebrations. This enabled us to attend the whole school Christingle service at St Johns church with a few of our children who attend all day. We had an exciting walk to church and saw a train and our railway station along the way. The children made their own Christingle orange and enjoyed singing and joining in with the actions for the carols. We finished the day by joining our Foundation 1 class for a Christmas party. What a wonderful day we had.
Christmas sparkle stay and play
Lots of our families attended our Christmas stay and play sessions today. The sessions focus was fine motor skills and how you can create simple opportunities to help your child's fine motor development at home. We did threading, biscuit icing, painting pine cones, tweezers with baubles, play dough Christmas trees, and even had a sneaky mince pie.
Strong fine motor skills are essential to enable young children to become independent by using buttons, zips, opening packets and using cutlery. These skills also help children to use scissors, turn the pages of a book, write and draw.
Hedgehogs
This week we are learning all about hedgehogs, what they like to eat, where they live and how they hibernate and have a very long sleep over winter.
Our focus book is 'It Was a Cold, Dark Night' and tells a story about Ned the hedgehog who is looking for a home. The children collected leaves from around our school and we dried them (hedgehogs don't like a wet bed) then made our very own hedgehog home.
It's wonderful to see such interest and enthusiasm from our young children when they are learning about the natural world. You could talk to your child about other animals and wildlife they might see over the winter such as squirrels, rabbits and birds. Not only does this help a child's vocabulary grow but sets the foundations of a love of the natural world around them.
This week has been all about forest school, fireworks and fire safety
We started the new half term by taking part in a forest school session provided by the practitioners from SureStart. The children made leaf crowns and firework pictures using the natural resources found in our outside area. Outside play is essential for children's physical, emotional and communication development and it helps make inquisitive and resilient learners.
We were also lucky enough to hold a firework party with our Foundation 1 and 2 classes. We talked about the dangers surrounding fireworks and how to keep safe. The children enjoyed hotdogs, biscuits and fruit punch while we watched the display and everyone was very excited.
Finally we were visited by our local firefighters who talked to the children about their job, fire safety and what to do in an emergency. Mrs Newton even dressed up as a firefighter and we learned that both girls and boys could be firefighters when they grow up. Unfortunately due to the torrential rain the children couldn't sit in the fire engine but we watched as it left and saw the flashing lights and heard the siren.
What a busy week we had.
Borrow a book
Our new book borrowing scheme is now available at the start of every session. Choose a book with your child to take home and enjoy together then return it and take a different one when you have finished.
Messy Play
Messy play is an important part of a child's development. It gives children an exiting, tactile and sensory experience which not only inspires curiosity but language and creativity. It helps children make sense of the world around them and enhances cognitive and physical development too.
(mix cornflour and water together in a tray to make 'gloop' as pictured below)
Follow us on our Facebook page at:
Keep an eye out in the local area for one of the special books which we have hidden. Enjoy reading the book with your child and then have fun re-hiding it. The benefits of reading with your child are huge. Click on the link to the book trust to find out more.
What fun we had on our pumpkin hunt. Talking about the colour, shape, texture, size and singing '5 little pumpkins'. The children got to explore our school grounds too which was very exciting.
Play is a child's work and how they learn to socialise, problem solve, build strength and communicate. Through play, confident, happy and resilient learners are made.
All about me
Welcome to all the children who have joined our Nursery after the summer.
We have been getting to know each other and learning about ourselves, our families and our emotions.
A great way to do this is through small world activities, books, role play, singing, exploring, dancing and physical play. Building children's confidence and resilience in a fun, safe and nurturing environment is the key to helping children learn.
Exploring colour and texture with flower power painting.
The children have been learning about growing and what plants need to grow. We have read 'The Enormous Turnip' and 'Oliver's Vegetables' and the children have been busy making vegetable soup, vegetable printing and planting sunflower seeds - we are excitedly waiting for them to grow.
Thank you to all the families who joined us on our walk to the library. We saw the fire station, canal, river and even had a chat to some very friendly ducks. After a story and a colouring activity the children explored the library and the fantastic services it offers.
Making tracks like in the Gruffallo's Child story
What fun we had in the snow in nursery. Catching snowflakes on our tongue, running on the school field and making tracks in the snow just like in The Gruffalo's Child story.
Brrrrrr......Winter is here and it's all about birds in nursery.
We had a fabulous Christmas in Nursery
During the Christmas period we had a 'Sparkle and Shine' stay and play session which children and parents attended.
We did lots of Christmas crafts and during our Christmas party we had a special surprise visit from Father Christmas!
Take a look at our slideshow below to see what we got up to.
Nursery
Prices are only £13 per session and your child may be eligible for 15 hours funded early education. To check your eligibility call 0300 500 80 80
A visit from the ice cream van
A huge thank you to Mr Cairns for Bringing his ice cream van to the nursery children. It was so exciting hearing the chimes and seeing the van pull up outside.
An ice cream was just what was needed on such a warm day.
We all got into the football spirit today at Nursery celebrating England getting into the World Cup semi final.
The whole school went on to the school field at lunch where the teachers had a penalty shoot out with Mr Guest! We don't think we'll be forming a staff football team anytime soon though!
Also what a fabulous effort Nursery children made with their red and white outfits. A big thank you to all our parents for your support.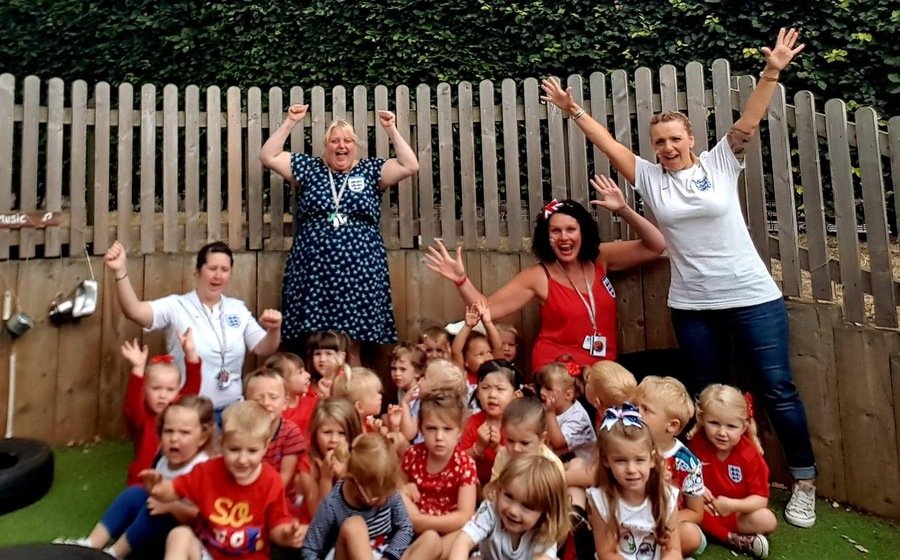 The weather is perfect for splashing
Thank you to the children and parents for supporting our 'pool party'. We had such fun getting wet, singing, splashing and paddling in the water. It was a great way of learning how to keep our bodies cool and a lovely time was had by all.
A flower isn't just a flower - it is a daisy, dandelion, buttercup or poppy.
The Nursery children have been collecting flowers from the school grounds to create their very own floral masterpieces.
It was so exciting exploring around our school and was great for learning new vocabulary.
Summer is here at Nursery
This half term we are learning about farms. You can help your child's understanding by talking to them about farm animals, naming them in books and encouraging your child to tell you what sounds the animals make. Remember to use the correct word for each animal such as dog and not doggy. This avoids your child re-learning the correct word at a later stage.
Mrs Miller's hens came to visit
Mrs Miller's hens, Feathers and Rosie came to visit for the day and even laid an egg. We learned that hens are girl chickens and that only hens can lay eggs. We also had fun walking and clucking like chickens and made egg sandwiches for our snack.
Nursery Easter Competition
A huge well done to all the children who created an Easter masterpiece at home for our competition. It is wonderful to see such creative designs.
After much deliberation, our winners Ava West and Molly Baxendale were chosen by our Foundation 1 teacher Mrs Newton.