Borrow a book
Our new book borrowing scheme is now available at the start of every session. Choose a book with your child to take home and enjoy together then return it and take a different one when you have finished.
Messy Play
Messy play is an important part of a child's development. It gives children an exiting, tactile and sensory experience which not only inspires curiosity but language and creativity. It helps children make sense of the world around them and enhances cognitive and physical development too.
(mix cornflour and water together in a tray to make 'gloop' as pictured below)
Follow us on our Facebook page at:
Keep an eye out in the local area for one of the special books which we have hidden. Enjoy reading the book with your child and then have fun re-hiding it. The benefits of reading with your child are huge. Click on the link to the book trust to find out more.
What fun we had on our pumpkin hunt. Talking about the colour, shape, texture, size and singing '5 little pumpkins'. The children got to explore our school grounds too which was very exciting.
Play is a child's work and how they learn to socialise, problem solve, build strength and communicate. Through play, confident, happy and resilient learners are made.
All about me
Welcome to all the children who have joined our Nursery after the summer.
We have been getting to know each other and learning about ourselves, our families and our emotions.
A great way to do this is through small world activities, books, role play, singing, exploring, dancing and physical play. Building children's confidence and resilience in a fun, safe and nurturing environment is the key to helping children learn.
Exploring colour and texture with flower power painting.
The children have been learning about growing and what plants need to grow. We have read 'The Enormous Turnip' and 'Oliver's Vegetables' and the children have been busy making vegetable soup, vegetable printing and planting sunflower seeds - we are excitedly waiting for them to grow.
Thank you to all the families who joined us on our walk to the library. We saw the fire station, canal, river and even had a chat to some very friendly ducks. After a story and a colouring activity the children explored the library and the fantastic services it offers.
Making tracks like in the Gruffallo's Child story
What fun we had in the snow in nursery. Catching snowflakes on our tongue, running on the school field and making tracks in the snow just like in The Gruffalo's Child story.
Brrrrrr......Winter is here and it's all about birds in nursery.
We had a fabulous Christmas in Nursery
During the Christmas period we had a 'Sparkle and Shine' stay and play session which children and parents attended.
We did lots of Christmas crafts and during our Christmas party we had a special surprise visit from Father Christmas!
Take a look at our slideshow below to see what we got up to.
Nursery
Prices are only £13 per session and your child may be eligible for 15 hours funded early education. To check your eligibility call 0300 500 80 80
A visit from the ice cream van
A huge thank you to Mr Cairns for Bringing his ice cream van to the nursery children. It was so exciting hearing the chimes and seeing the van pull up outside.
An ice cream was just what was needed on such a warm day.
We all got into the football spirit today at Nursery celebrating England getting into the World Cup semi final.
The whole school went on to the school field at lunch where the teachers had a penalty shoot out with Mr Guest! We don't think we'll be forming a staff football team anytime soon though!
Also what a fabulous effort Nursery children made with their red and white outfits. A big thank you to all our parents for your support.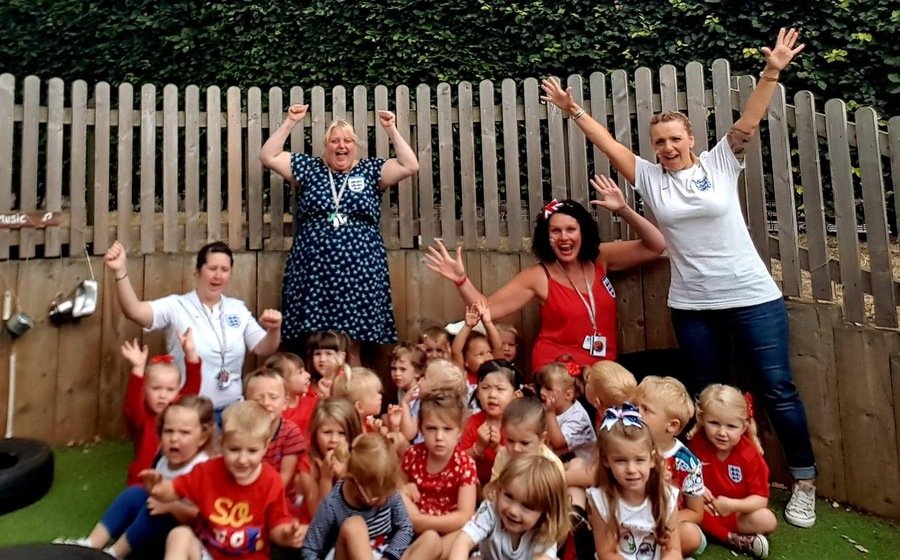 The weather is perfect for splashing
Thank you to the children and parents for supporting our 'pool party'. We had such fun getting wet, singing, splashing and paddling in the water. It was a great way of learning how to keep our bodies cool and a lovely time was had by all.
A flower isn't just a flower - it is a daisy, dandelion, buttercup or poppy.
The Nursery children have been collecting flowers from the school grounds to create their very own floral masterpieces.
It was so exciting exploring around our school and was great for learning new vocabulary.
Summer is here at Nursery
This half term we are learning about farms. You can help your child's understanding by talking to them about farm animals, naming them in books and encouraging your child to tell you what sounds the animals make. Remember to use the correct word for each animal such as dog and not doggy. This avoids your child re-learning the correct word at a later stage.
Mrs Miller's hens came to visit
Mrs Miller's hens, Feathers and Rosie came to visit for the day and even laid an egg. We learned that hens are girl chickens and that only hens can lay eggs. We also had fun walking and clucking like chickens and made egg sandwiches for our snack.
Nursery Easter Competition
A huge well done to all the children who created an Easter masterpiece at home for our competition. It is wonderful to see such creative designs.
After much deliberation, our winners Ava West and Molly Baxendale were chosen by our Foundation 1 teacher Mrs Newton.